New Book Calls Attention to the Role of Design in Tackling US Housing Challenges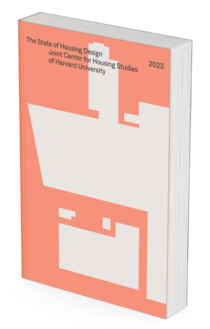 CAMBRIDGE, MA – What is the state of housing design in the US, and how are architects responding to issues such as climate change, the affordability crisis, increasing regulations and construction costs, and the demand for new housing that better reflects today's demographic realities? These and other questions are addressed in a new book, The State of Housing Design 2023, being released today by the Harvard Joint Center for Housing Studies in an event that will be livestreamed from the Harvard Graduate School of Design (GSD) from 2:00-6:00 p.m. ET.
For over thirty-five years, the Harvard Joint Center for Housing Studies has produced its annual State of the Nation's Housing report, examining the supply and demand of housing, trends in market conditions, and US housing policy. The widely-cited report, however, has paid far less attention to the physical form of housing, beyond examining structural inadequacies and energy-efficiency concerns. "And yet design critically affects how well housing meets the needs of residents," says Chris Herbert, Managing Director of the Center. "Design affects how housing enables or deters connections with neighbors, how economical it is to construct and operate, and how aesthetically pleasing it is, which can exert profound influence on a community's economic and social vibrancy." The inaugural State of Housing Design book seeks to address this gap and call attention to the important role that design can and must play in addressing the country's critical housing challenges.
The State of Housing Design focuses on the new, novel, and notable in US housing design. "The book includes only projects that were built and occupied in the past three years," says Dan D'Oca, Associate Professor in Practice of Urban Planning at the GSD and one of the book's editors. "And we prioritized projects with public benefits." Sam Naylor, co-editor and an architect at Utile, adds, "We chose projects that address critical environmental issues, achieve affordability in novel ways, respond to new demographic realities, create or enhance public space, or address issues of accessibility and resiliency." The editors surveyed over 1,300 architects, advocates, contractors, residents, developers, and designers to identify 113 projects that illustrate 25 important themes in contemporary housing design. Working with a student research team at the GSD, the editors then commissioned prominent journalists and writers, including Mimi Zeiger (Los Angeles Times, Architectural Review), Nate Berg (Fast Company), Inga Saffon (The Philadelphia Inquirer), Patrick Sisson (CityLab), Stephen Zacks (Dwell, Architects's Newspaper), and others to write about the projects. The result is a collection that highlights inventive projects focused on disguised density, modular housing, and community-led development. With over 90 photos, floor plans, and drawings, The State of Housing Design illustrates some of the most innovative designs in contemporary US housing. 
Estimates vary, but there is consensus that the US is short several million homes. While a vast quantity of new housing is required to meet this need, the features and form of housing shape how it impacts the climate, the communities where it is built, and the people who call it home. "Identifying creative, effective new architectural practices is essential to scaling up the strategies that will be required to meet our country's housing need," says Herbert. "To address our most pressing challenges, and to design better homes and cities, we need to understand and widely implement the best aspects of innovative housing design."
MEDIA CONTACT: [email protected]
---