Home Depot CFO Carol Tome to Chair Policy Advisory Board of Harvard's Joint Center for Housing Studies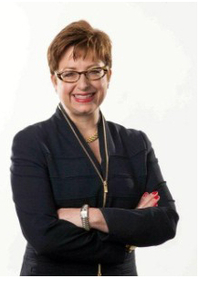 Cambridge, MA – Carol Tomé, Executive Vice President and Chief Financial Officer of The Home Depot, is the new chair of The Policy Advisory Board (PAB) of the Harvard Joint Center for Housing Studies. Tome's tenure began last month when the PAB held its winter meeting in Washington, DC. 
"Carol will be an outstanding leader for the Policy Advisory Board," said Chris Herbert, managing director of the Joint Center. "She brings a rich perspective on the US housing market and invaluable experience in building bridges between industry, policy, and academia that is at the heart of the Joint Center's mission."
Tomé has served as chief financial officer of The Home Depot since May 2001 and was named executive vice president of corporate services in January 2007. She provides leadership in the areas of real estate, financial services, and strategic business development. Tomé began her career as a commercial lender with United Bank of Denver (now Wells Fargo) and then spent several years as director of banking for the Johns-Manville Corporation. In 2003, she joined the UPS board of directors and currently serves as chair of the audit committee. From January 2008 through December 2013, she also served as a board member for the Federal Reserve Bank of Atlanta, in both a board chair and vice-chair capacity. In 2012, she became the second women in 150 years to chair the board of The Metropolitan Atlanta Chamber of Commerce. In 2012, The Wall Street Journal ranked Tomé number two on its list of the best chief financial officers in corporate America and in 2013, Fortune magazine listed her among the top 50 Most Powerful Women in Business.
"I am honored to step into the Chair position," said Tomé.  "The Joint Center is a critically important and trusted source of information and analysis of housing market conditions. I look forward to doing my part to support such a valued institution."
The Joint Center also announced that the Board's new Vice Chair will be Allan Merrill, President and Chief Executive Officer of Beazer Homes, one of the nation's largest homebuilders.
The Harvard Joint Center for Housing Studies advances understanding of housing issues and informs policy. Through its research, education, and public outreach programs, the center helps leaders in government, business, and the civic sectors make decisions that effectively address the needs of cities and communities.  Through graduate and executive courses, as well as fellowships and internship opportunities, the Joint Center also trains and inspires the next generation of housing leaders. 
 
Established in 1971, the Joint Center's Policy Advisory Board has a longstanding history of supporting housing research at Harvard. The group also serves as a distinguished national forum for leading companies across all industries with interests in the future of housing, including homebuilding, building materials manufacturing and distribution, housing and mortgage finance, industry media, design, construction and renovation. Representatives on the Policy Advisory Board play an important role in identifying emerging issues and trends and are committed to advancing housing as a national priority.  
For more information, please visit www.jchs.harvard.edu.
Contact: Kerry Donahue, (617) 495-7640, [email protected]
---