Architect Andrew Bernheimer to Deliver 22nd Annual Dunlop Lecture at Harvard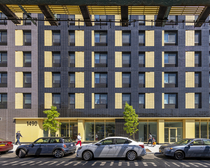 CAMBRIDGE, MA – On Tuesday, March 28, 2023 at 6:30 pm ET, architect Andrew Bernheimer, FAIA, will deliver the 22nd Annual John T. Dunlop Lecture, presented by the Harvard Joint Center for Housing Studies at the Harvard Graduate School of Design in Cambridge, Massachusetts. No registration is required to attend in person or to watch online. 
In his lecture, Bernheimer will discuss what several affordable housing projects in New York City have taught him about architecture's role in addressing housing-related challenges. His firm, Bernheimer Architecture (BA), is committed to "designing sustainable and resilient architecture by crafting productive environments for people and their communities." BA's wide-ranging portfolio includes numerous affordable housing developments, including OneFlushing, a 230-unit, all-affordable intergenerational housing development in Queens; Caesura Brooklyn, a 123-unit, mixed-use, mixed-income building in the Downtown Brooklyn Cultural District; and 1490 Southern Boulevard, a 115-unit, all-affordable, senior housing project in the Bronx that includes units and related services for people who previously experienced homelessness. And, in the context of a recent unionization drive at BA, Bernheimer will discuss how to do this challenging work in humane and sensitive ways.  
His remarks will be followed by a discussion with Jill Crawford, a partner at Type A Projects LLC, who has worked with BA on several affordable housing projects and Marc Norman, Larry & Klara Silverstein Chair in Real Estate Development & Investment and Associate Dean of NYU's Shack Institute of Real Estate. Daniel D'Oca, an Associate Professor in the Practice of Urban Planning at Harvard Graduate School of Design, will moderate the conversation.
---
JOHN T. DUNLOP LECTURE
The John T. Dunlop Lecture, presented annually by the Harvard Joint Center for Housing Studies, honors a distinguished member of the Harvard community in recognizing the contributions of Professor John T. Dunlop. In addition to serving as Chairman of the Economics Department and Dean of the Faculty of Arts and Sciences, Professor Dunlop was United States Secretary of Labor during the Ford administration. Professor Dunlop had a lifetime career in mediation, arbitration, and dispute resolution. A commitment to the nation's construction industries and housing also distinguished his work. He served as chairman of the Construction Industry Stabilization Committee and played a role in the establishment of the National Institute for Building Sciences. Dunlop was inducted into the National Housing Hall of Fame by the National Association of Home Builders in 1986.
---
MEDIA CONTACT
Kerry Donahue, (617) 495-7640, [email protected]  
---