Brown Bag: Roberto Moreno
Location: GSD, Portico 122
Talk title: "Cities Within a City"
Roberto Moreno, President & CEO, Amarilo Group, Bogota, Colombia
Mr. Moreno is the Co-Founder & President CEO of Amarilo Holdings, a leading residential, retail, office, and industrial real estate development group engaging in projects in key urban growth hubs in Colombia and Panama. Mr. Moreno will be speaking about their project Ciudad Verde, a highly successful large scale residential real estate urban development project launched in 2010 to develop 49,532 low-income housing units in the outskirts of Bogota, Colombia.
This "city within a city" was designed as an environmentally sustainable expansion, with 67% of total area for residential use. The remaining part was strategically zoned as retail, non-polluting industries, education, health, recreation, and administrative facilities to reduce commute time to work. Ciudad Verde has created over 21,000 new jobs, and will have over 76,000 planted trees, 9km of paved bike paths and extensive pedestrian sidewalks connected by large green parks and boulevards. It is located on the southern edge of Bogota in the municipality of Soacha—currently Bogota's most populous and fastest growing suburb with a population over 489,000. The Colombian Government and various media sources have publicly stated that Ciudad Verde's value-added presence has substantially contributed to Soacha's transformation into a key economic and social development hub home to emerging working class families.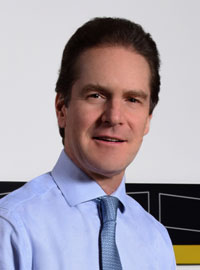 Starting from this success, Amarilo has launched several other "cities within a city" projects, which Mr. Moreno will also discuss.
About Mr. Moreno:
Before jointly starting-up Amarilo with Mr. Enrique Mazuera in 1993, Mr. Moreno worked for 12 years in Ft. Lauderdale, FL for Andes Realty and as project manager for MORCON Construction. For the past 3 years he has been ranked by MERCO amongst the top-100 most influential business leaders in Colombia. Mr. Moreno was born in Philadelphia, PA in 1956 and studied at the University of Florida in Gainesville where he obtained degrees in Engineering Science & Economics and Building Construction & General Contracting.