Slight Gains in 2023 Outlook for Residential Remodeling
After several years of double-digit gains, expenditures for improvements and repairs to the owner-occupied housing stock are expected to grow only modestly in 2023, according to our latest Leading Indicator of Remodeling Activity (LIRA). The LIRA projects a steep deceleration in annual gains of home renovation and maintenance spending from 16.3 percent at the close of 2022 to just 2.6 percent by year-end 2023.
Slowdowns in existing home sales, house price appreciation, and mortgage refinancing activity coupled with growing concerns for a broader economic recession will cool home remodeling activity this year. Homeowners are likely to pull back on high-end discretionary projects and instead focus their spending on necessary replacements and smaller projects in the immediate future.
Yet, the release of new benchmark data from the American Housing Survey recalibrates the overall market size. The massive pandemic-induced changes in housing and lifestyle decisions fueled remodeling and repair spending in 2020 and 2021, growing 23.8 percent over these two years compared with the 12.5 percent originally estimated. While the pace of expenditures is expected to slow substantially this year, we've raised our projection for the remodeling market size in 2023 by about $45 billion, or 10.2 percent, to $485 billion.
Read more about the newly released benchmark data and changes to the projected LIRA market size.
Click image for full-size chart.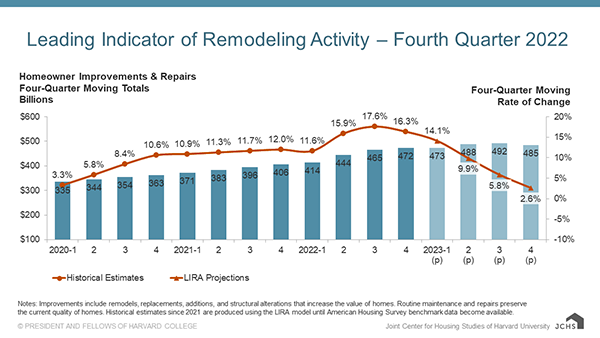 For more information, visit the LIRA page of our website.