Rethinking the American Dream: Small Multifamily Housing Remains Popular Among Immigrant Owners
Small multifamily homes are a popular means of facilitating immigrant homeownership. Since 2019, co-author Sharon has conducted ethnographic and qualitative research in Brockton, a city on Boston's metropolitan fringe popular among Black immigrant homebuyers, many of whom are priced out of Boston. She observed that two-to-four family homes were particularly popular among immigrant homebuyers, and often housed extended families.
For instance, Fritz, a painter who moved from Haiti to his aunt's house in Boston in 1981, became a homeowner within seven years of coming to the United States. He did so by moving to Brockton and by pooling resources with his two brothers to help pay for the downpayment and monthly costs on a 1924 two-family house: "It was the three of us, so we all got to do it together."
While, like Fritz, many immigrants developed this "multifamily" version of the American Dream under conditions of exclusion from single-family homeownership, their housing models also offer innovative ways of co-habiting, of aging in place near family, and building wealth.
Massachusetts' Triple-Deckers Offer Immigrants Homeownership Access
In Massachusetts, small multifamily buildings have been a prevalent housing type for more than a century. Most are wood-framed, three-family homes, stacked as three units on top of each other called triple-deckers, and they are popular in dense neighborhoods in cities such as Boston, Worcester, and Brockton. Built mostly by small builders between 1880 and 1930, before zoning and building code reforms limited their construction, triple-deckers historically offered affordable housing and homeownership opportunities for immigrants in New England's industrial cities.
Triple-deckers remain an important part of the Massachusetts housing landscape. According to the American Community Survey (ACS), there were just over 600,000 units in two-to-four-unit multifamily structures in the state in 2021, comprising 20 percent of the housing stock, including 10 percent of the owner-occupied stock. Foreign-born homeowners disproportionally occupied these small multifamily structures. Indeed, 46,000 immigrant homeowner households lived in multifamily units with two-to-four units, about 17 percent of all immigrant homeowners, double the rate of native-born homeowners in Massachusetts.
There are three common ownership structures of triple-deckers in Massachusetts: those owned and rented out by an external landlord, those occupied by three separate homeowners in the form of condominiums, and those owned by an owner-occupant landlord, who either splits the bills with extended family members or rents out units to tenants (Figure 1).
Figure 1: Triple-Deckers Have Three Common Tenure Structures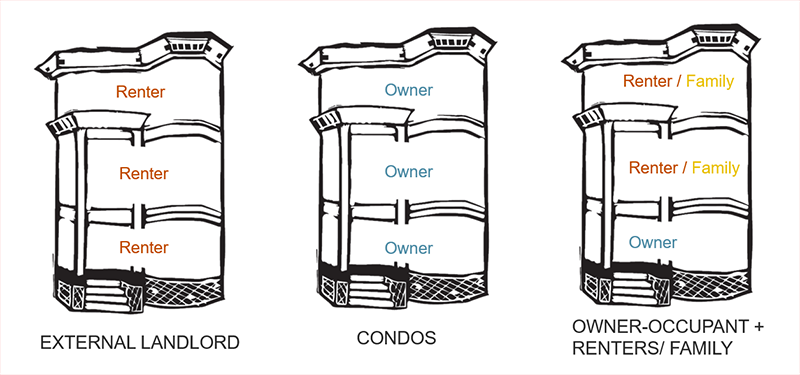 Note: In the third type, extended family members may be co-owners.
Source: Triple-decker drawing adapted from "Future Decker," City of Boston, Boston Architectural Society; original drawing by Write on the DOT.
Triple-deckers are typically more expensive than single-family homes and are concentrated in high-cost urban locations. Nonetheless, rental income from leasing the other units can be used to defray ongoing housing costs. Homeowners in small multifamily structures are far more likely to report rental income: 30 percent of householders who owned small multifamily structures reported having interest, dividend, or rental income, higher than the 20 percent who owned single-family homes. Moreover, small multifamily ownership may be more affordable if extended family members share costs. Samara, an African American real-estate professional, was able to get a foothold into homeownership by pooling resources with her husband and sister to buy a triple-decker in Brockton: "We did it as a family." They now all live together: "My mom is on the first floor. My husband, my son, and I are on the second floor, and my sister's on the third."
Across the US, Immigrants Disproportionally Own and Live in Small Multifamily Homes
Immigrants are also more likely to own and live in small multifamily properties nationally. Across the country in 2021, 480,000 immigrant homeowners lived in two-to-four unit buildings, about 4.4 percent of foreign-born homeowners. By comparison, less than half the rate, or 1.7 percent of native-born homeowners, lived in small multifamily structures.
Data on ownership arrangements are sparse but immigrant homeowners in these structures are less likely to own these units as condominiums, suggesting that immigrant households are more likely to live in small multifamily structures as owner-occupant landlords. Nationwide, 46 percent of native-born homeowners in multifamily structures with two-to-four units own them as condos, compared with just 35 percent of foreign-born homeowners.
In seven states, at least 10 percent of foreign-born homeowners lived in small multifamily structures (Figure 2). The Northeast saw the highest rates of immigrant homeownership in these unit types. In Rhode Island more than one-fifth of foreign-born homeowners (22 percent) lived in multifamily structures with two-to-four units—the highest nationally—followed by New York (18 percent), Massachusetts (17 percent), and New Jersey (12 percent). The remaining states where 10 percent or more of foreign-born homeowners lived in small multifamily structures were Connecticut, Wisconsin, and Maine. In no state did more than 10 percent of native-born homeowners live in small apartment buildings.
Figure 2: Small Multifamily Buildings Are Especially Important for Immigrant Homeownership in Select States, Particularly in the Northeast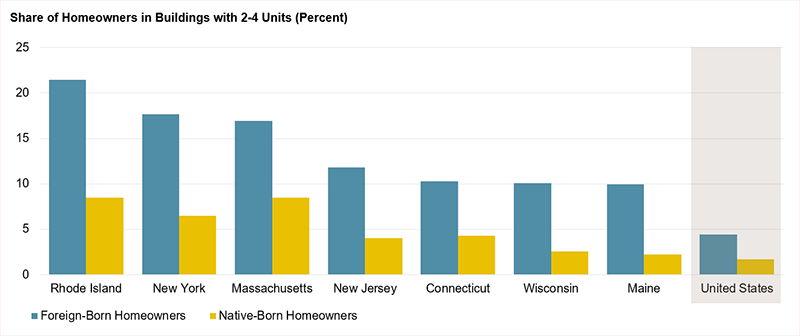 Notes: The figure shows only states where 10 percent or more of foreign-born homeowners lived in small multifamily buildings.
Source: JCHS tabulations of US Census Bureau, 2021 American Community Survey 1-Year Estimates.
The Small Multifamily Housing Stock is Older and Inadequate
Given the older age and potential depreciation of small multifamily buildings, homeowners in these units face numerous challenges. Existing units in small apartment buildings—whether rented or owned—are among the nation's oldest housing and have some of the greatest repair needs. According to the 2021 American Housing Survey (AHS), the median unit in small multifamily structures was built 54 years ago, making it nine years older than the typical single-family home. For the owner-occupied stock alone, about one-third of units in small multifamily buildings were originally constructed before 1940, compared to just 11 percent of single-family owner-occupied units.
Given the age of the stock, these units face significantly higher quality and structural issues. Fully six percent of units in owner-occupied small multifamily structures were moderately or severely inadequate in 2021, double the rate of owner-occupied single-family homes. Inadequacy is defined by a range of structural deficiencies, such as water leaks, broken windows, and lacking electricity, plumbing, or heat. However, homeowners in inadequate units often lack the resources to address these issues. Roughly one-fifth (19 percent) of all homeowners in structures with two-to-four units had household incomes below $30,000, somewhat higher than the 13 percent of homeowners in single-family homes.
Policy Recommendations
As immigrants continue to rely on small multifamily homes to become homeowners, we offer two policy recommendations.
First, maintaining, upgrading, and retrofitting the existing stock of small multifamily units is crucial. As small apartment buildings are some of the oldest housing in the nation, they have significant maintenance and investment needs. Most of these maintenance issues rest on the shoulders of small landlords and owner-occupants, who may lack the resources to keep these older homes updated. Small multifamily buildings remain an important source of unsubsidized, affordable housing stock for lower-income owners and renters, including recently arrived immigrants. To support this housing stock, policymakers can subsidize home repair grants and tax abatement incentives focused on updates such as lead and asbestos remediation, fire safety and sprinkler systems, and energy efficiency. Considering that many immigrant families pool resources to own these small structures, income-restricted programs can benefit from upwardly adjusting maximum income and asset limits to be inclusive to extended and multigenerational family ownership.
Second, policymakers and practitioners can learn from immigrants' housing models to innovate beyond the confines of a nuclear family in a single-family home. Today, more and more small community development organizations are seeking to do this through models such as shared equity homeownership and community land trusts. However, the popular triple-deckers of Massachusetts also offer inspiration for imagining alternative models, such as facilitating lower-income homeownership through rental income that can help pay the mortgage, or through pooling resources with extended family.