Practicing Community: Bernheimer Architecture's Affordable Housing
Andrew Bernheimer, FAIA, founding principal of Bernheimer Architecture (BA), opened this year's Dunlop Lecture with a blank slide. "That's it, that's what I have drawn of the hundreds of drawings that go into making our buildings." The faces of the 21 employees of BA filled the screen. "The work you will see tonight, that I get the privilege to speak about, is their work."
This thinking reverses the usual architecture firm hierarchy, with principals shown as the authors and other architectural workers – from junior designers to communications staff – largely made invisible. It speaks to a learning process within Bernheimer Architecture that has been deepening since its workers unionized in June 2022 through Architectural Workers United (AWU), an affiliate of the International Association of Machinists and Aerospace Workers (IAMAW). As principal and owner, Andrew Bernheimer voluntarily recognized the union, making their firm the first private-sector architectural practice in decades to successfully unionize (an earlier drive at SHoP Architects fell apart in February 2022). Where other owners have seen a threat, he saw an opportunity to listen to his staff's collective concerns about how to improve their workplace. Contract negotiations between Bernheimer and the employees – represented by AWU – commenced last week.
Acting as "spokesperson" for the work made by his firm, Bernheimer suggested that this ability to find opportunity within constraint is as key to design thinking as it is to workplace equity. The lecture's guiding question, "where is the architecture?", asks where that opportunity can be found within the work that BA is best known for: affordable multifamily housing in New York City. Building affordable housing in the most expensive city in the world means going up against extreme constraints. As commentator Marc Norman, Associate Dean of NYU's Schack Institute of Real Estate put it, when Requests for Proposals (RFPs) issued by the city want "the highest priced land… the most affordability, the most amenities, the most amount of leverage and the longest affordability period, those are kind of unreconcilable things." Reconciling the irreconcilable becomes the task of designers.
Boxed tightly within the gap between these levers – land price, labor costs, and code constraints – a very small degree of freedom exists for design to unfurl. Its movement can be as small as the flip of a brick. In one of their affordable housing projects, 1490 Southern Boulevard in the Bronx, BA's design shifts pattern by less than an inch to add depth and shadow to an otherwise flat façade, livening up what might have been a "dumb box." This project is all senior housing, with dedicated units for formerly unhoused residents (Figure 1). Code constraints demanded two percent of the gross square footage for social welfare space. Where to put it, however, was left up to the designers, who gathered inches from across the project to provide small seating areas by the elevators on each floor, creating space for chance happenings and socializing. Jill Crawford, co-founder of developer Type A Projects and event commentator, said "what we're always trying to do is offer the community the very best that we can," given the imperative to maximize the number of units. As developer for 1490 Southern Boulevard, Type A asked BA to create a "menu of options" for features within budget, and value engineered iteratively to make designs financially feasible.
Figure 1: 1490 Southern Boulevard Senior Affordable Housing
Note: The 30 units intended for formerly unhoused residents include furnishings. The project team for 1490 Southern Boulevard was Will Sheridan, AIA, Thom Medek, AIA, Leeland McPhail, Lauren Bordes, and Brandon Pietras. Photo by Albert Vecerka.
Community-building opportunities abounded in OneFlushing, a 100 percent affordable housing project in Queens. While market rate housing needs to capitalize on the most valuable square footage of the top floors by divvying it up into luxury apartments, in a completely affordable building there's nothing stopping the penthouse becoming community space. The result is "rooftops dedicated to the people who live there, not to the person who can afford the most expensive apartment," with expansive views (Figure 2). A further opportunity came from the strange shape of the cheap land offered by the city. The extremely long and narrow site provided just enough depth for a unique move to "solve for the action of the sidewalk," namely the nearby shuttle bus stop where people regularly congregate. Finding that zoning code allowed a small percentage of street-facing wall to be set back, BA seized on a chance to open the building up for public amenity, simply tilting back façade segments to create more sidewalk for waiting bus-riders.
Figure 2: OneFlushing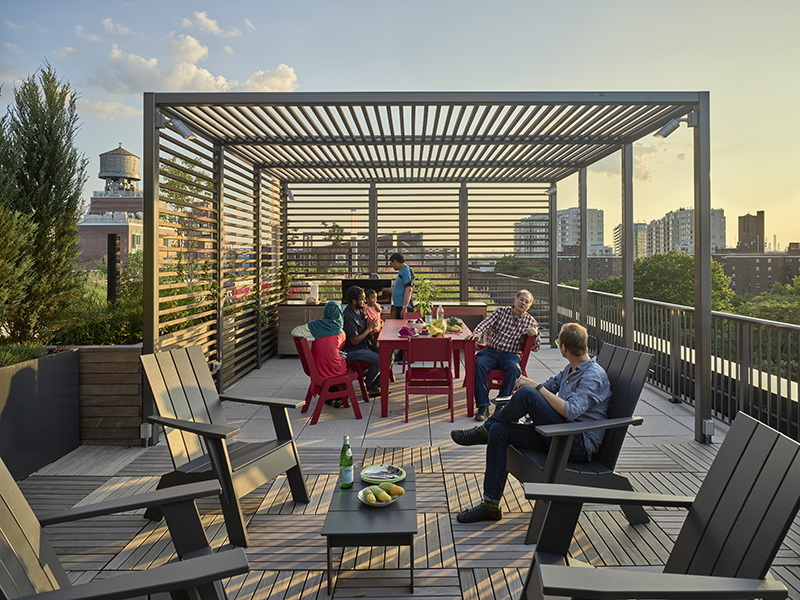 Note: The project team for OneFlushing was Thom Medek, AIA and Leeland McPhail. Photo by Frank Oudeman.
In the after-lecture discussion, the moderator Daniel D'Oca, Associate Professor in Practice of Urban Planning, asked the million-dollar question: "Why aren't there more projects like this… projects that are both well designed and thoughtful and affordable? Can we solve the [housing crisis] with projects like this?" Bernheimer's short answer was "no" – not because of the extra time that careful design takes, but because of pure unit quantity. At the end of the day, "there isn't enough public dedication and money… Easy to say 'it's not the architect's fault!' but – it's the system. The system doesn't produce enough housing." The constraints of land and labor markets, zoning codes, and political will may be outside the realm of architecture to change.
What is within our control, Bernheimer emphasized, is the way the architecture field approaches these constraints, and the norms it sets internally. The well-being of designers can't be the price of reconciling the irreconcilable. When architecture students work 16-hour days, then graduate into practices requiring regular unpaid overtime, their teachers, academic accreditation boards, and employers are co-creating an unlivable industry. Moreover, principals must build design teams that look like the communities the work serves – resignation to the assumption that architecture "just isn't diverse" isn't acceptable. "We do our best to build communities in our own work and we need to model that community-building in our practice." As a teacher, Bernheimer says this project must start in the classroom – including the classrooms of the Harvard Graduate School of Design, and other architecture schools.
Watch the 2023 Dunlop Lecture: